DON'T BECOME ANOTHER STATISTIC.
#CHOOSECHIROPRACTIC
About Chiropractic
Chiropractic and other conservative (non-drug) approaches to pain management can be an important first line of defense against addiction caused by the overuse of prescription opioid pain medications.
Chiropractic uses something called an adjustment to return vertebrae and bones to their optimal alignment. This allows the body to heal itself naturally by treating the cause of pain, instead of the symptom, without prescription drugs.
Why Chiropractic?
Chiropractic is a safe, cost-effective, non-invasive, drug-free form of healthcare that helps prevent opioid addiction by avoiding addictive prescription drugs in the first place.
Why does this matter?
In 2019, nearly 5 North Carolinians died each day from an unintentional opioid overdose. With over 2000 licensed North Carolina Chiropractors we can change these numbers and help citizens manage neck and back pain without opioid prescriptions.
Don't just take our word for it, the ACP agrees.
The American College of Physicians updated their guidelines and recommend chiropractic and other non-invasive, non-drug treatments of back pain before turning to prescription opioids.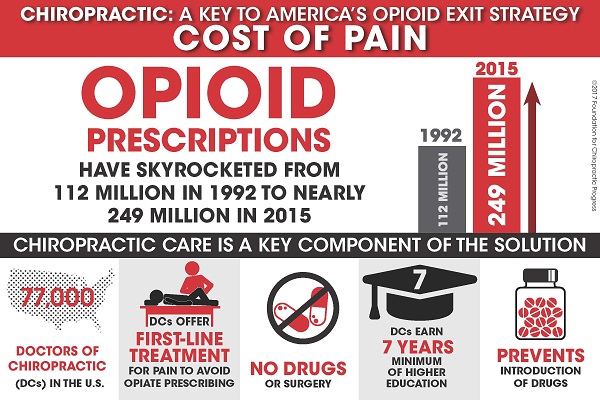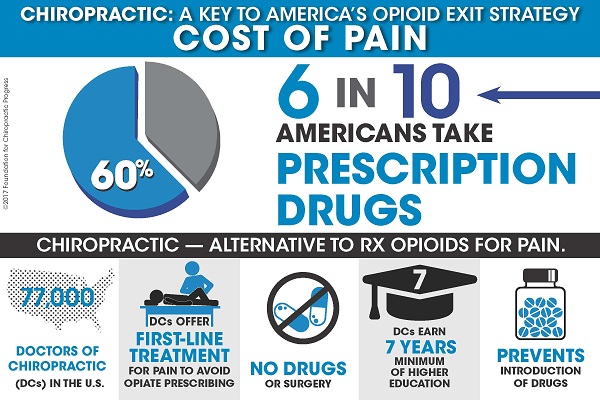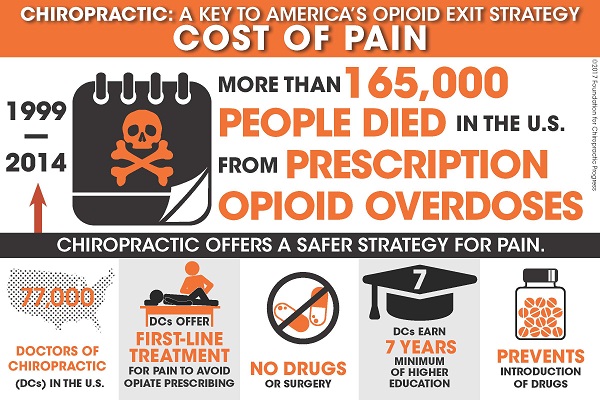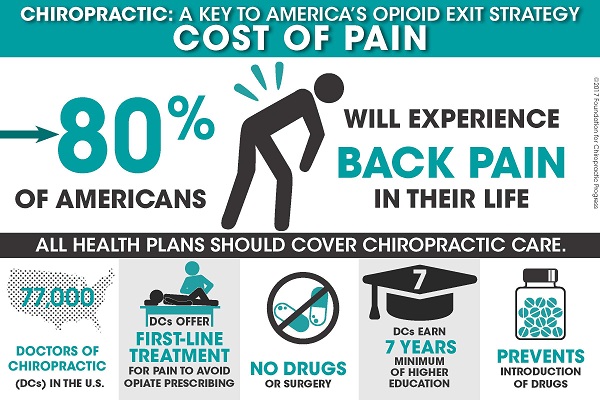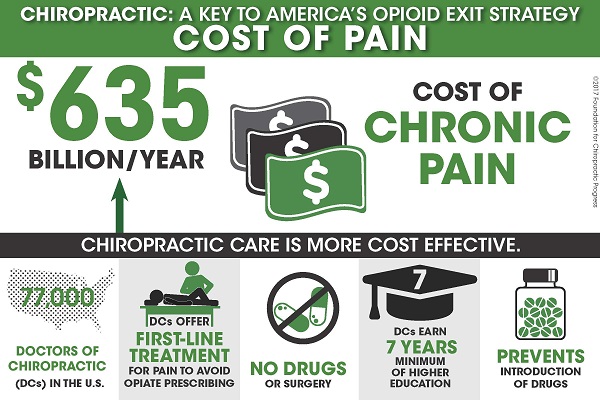 How Chiropractic Can Help in the Fight Against the Opioid Epidemic.
Current Research
Integrating a Multidisciplinary Pain Team and Chiropractic Care in a Community Health Center: Managing Chronic Spinal Pain
This 2020 observational study within a community health center resulted in improvement in spinal pain and disability with chiropractic care versus a multidisciplinary pain team. Offering similar services in primary care may help to address pain and disability, and hopefully limit external referrals, advanced imaging, and opioid prescriptions.
Use of Complementary and Alternative Medicine Among Emergency Department Patients
A 2020 cross-sectional descriptive survey found that CAM therapies are frequently used by patients visiting the ED in Sweden; almost 1 in 10 uses CAM the same day as the ED visit. CAM use was associated with lower use of prescription drugs and higher use of non-prescription drugs. A lack of communication about CAM use between the ED healthcare professionals and patients was evident.Click here to read in full
Are Opioids Needed to Treat Chronic Low Back Pain? A Review of Treatment Options and Analgesics in Development
A 2020 narrative review found that noninvasive treatment measures for chronic LBP supported by evidence include physical and chiropractic therapy, yoga, acupuncture, and non-opioid and opioid pharmacologic therapy; data suggest a moderate benefit, at most, for any of these therapies.
Impact of Chiropractic Care on Use of Prescription Opioids in Patients with Spinal Pain
A 2020 retrospective cohort study found that patients with spinal pain who saw a chiropractor had half the risk of filling an opioid prescription. Among those who saw a chiropractor within 30 days of diagnosis, the reduction in risk was greater as compared with those with their first visit after the acute phase.
Association of Initial Provider Type to Opioid Fills for Individuals With Neck Pain
A 2020 retrospective cohort study investigated whether the type of initial care provider was associated with opioid use for individuals with neck pain. Compared to patients with neck pain who saw a primary medical care provider, patients with neck pain who initially saw a conservative therapist were 72%-91% less likely to fill an opioid prescription in the first 30 days, and between 41%-87% less likely to continue filling prescriptions for 1 year. People with neck pain who initially saw emergency medicine physicians had the highest odds of opioid use during the first 30 days.
Association between Chiropractic Use and Opioid Receipt
A 2020 systematic review and meta-analysis investigated the association between chiropractic use and opioid receipt. Databases were searched through April 18, 2018 and controlled studies, cohort studies, and case-control studies including adults with noncancer pain. A total of 6 articles were included in the analysis; 5 focused on back pain and 1 on neck pain. Between 11-51% of spinal pain patients used chiropractic. Fewer chiropractic users received an opioid prescription (range = 12-57%) than nonusers (range = 31-66%). Chiropractic users had 64% lower odds of receiving an opioid prescription than nonusers (odds ratio = 0.36).
A 2020 retrospective cohort study evaluated the impact of chiropractic utilization on use of prescription opioids among patients with spinal pain. Those who received both primary medical care and chiropractic care were compared to those who received primary medical care but not chiropractic care. Of 101,221 patients in the dataset, 1.55-2.03 times more nonrecipients of chiropractic care filled an opioid prescription, compared to recipients of chiropractic care. The authors concluded that patients with spinal pain who saw a chiropractor had half the risk of filling an opioid prescription.